Please contact Artist for pricing and availability.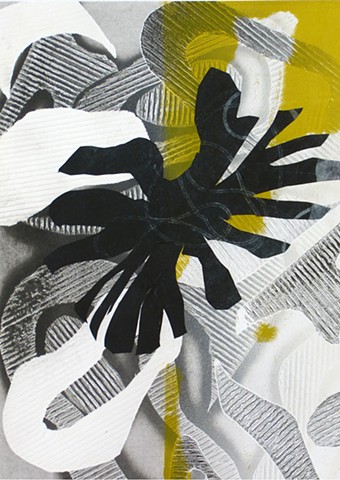 I enjoy creating contemporary monotypes
and collages, to experiment with color, size and composition.
This creative process expresses my spontaneity and flexibility in finding my new path.
I had a long career as a registered nurse both in allopathic and alternative health care fields. My interest in healing lead me to focus more on preventive health care. I received certifications for yoga instructor, massage therapist, reiki therapist and Chinese healing art work.
In 2005 after the sudden loss of my long time friend and husband Dick R. Wittink, I took my first course in printmaking as a form of therapy. In 2006 I enrolled in a printmaking course taught by master printer Barbara Harder, at Creative Arts Workshop in New Haven CT.
Barbara understood my need for space and care while introducing me to the various forms of printmaking. I received and abundance of support and care from family, friends. A new world opened up to me in which I found many new friends and my love for mono-types.
In 2011, I continued to develop a greater sense of depth in my work, through layering with color, shape, form and collage under the mentorship of Liz Pagano.
I have found a true sense of healing through a blend of meditative yoga and printmaking. I continue to explore while pushing the boundaries with mono-type, mixed media and collage.
I would love to hear from you. Please contact me via the contact page of this site.



Since 2011 my prints have been shown in:
Creative Arts Workshop Gallery, New Haven, CT
Art Space , New Haven, CT
City Wide Open Studios; New Haven, CT
Christopher Martins Restaurant, New Haven, CT
New Haven Paint and Clay Club; New Haven, CT Juried exhibition.
Bridge Art Gallery; University of Rochester Medical Center; Rochester, New York: Juried exhibition